Every business needs customers who are loyal and uphold your expertise in the industry. When you deliver value to them after you sell your product or service, it makes the customer experience more delightful. In fact, the longer customers stick with you, the more your business will prosper. The key is to deliver excellence at all stages of your customer lifecycle management.
Retain customers with a robust Tech Support
Similar to innovation, which is an essential strategy to survive the fierce market, building potent tech support is a must-have. It becomes your organization's backbone. If we think carefully, it can be your unique selling point. An experienced tech support team will enhance customer experience by resolving issues related to the products. Also, the customer tech support team works at the frontline, directly engaging with customers.
They can either make or break a positive business relationship. However, the fact remains that building an efficient and effective tech support team requires fine-grained resources. So, if you are not sure of how to start, it is always good to outsource it to a tech support partner.
MSys Technologies' tech support engineers help you orchestrate a right plan that standardizes your support base. Our extra pair of hands ensure you remediate customers' issues swiftly. We are capable of managing all kinds of upgradation, security patching, and antivirus with 24/7 monitoring. Our tech support engineers ensure your systems are in good health. We also share reports of your IT infrastructure health daily. We are capable of assisting your customers via a remote session, phone, Instant Messaging, or on-site visits. With us, you get access to fine-tuned and tailored tech support.
We are capable of crafting a tech support model that has unique functions and operational workflow, all within your IT budget. Our tech support engineers are fully trained, and their soft skills create a pleasant experience for your customers. We enforce rigid SLAs, multi-layered IT security policies, and value-driven IT managed services.
Our services
Managed IT Services
a proactive approach that maintains the health of your applications in a comprehensive way. From deployment to maintenance, we take care of everything.
Desktop Support
an effective helpdesk support that remediates users' problems and maintains the desired efficiency of your operations. We take care of software installation, configuration, and updates.
Backup and Data Recovery
an automated and robust DR solution to maintain operational workflow and drive higher productivity, in case of any unwanted catastrophic events.
Server and Network Support
setting up and running of your IT infrastructure with system administration, fine-tuning, and performance management. We integrate, maintain, and secure your VPNs and LANs and firewalls and IDSs/IPSs.
Virus Protection
an enterprise-grade protection and antivirus for your systems, applications, server, and network.
Cloud Support
an easy integration, maintenance and robust security support for your public and private cloud including Azure, AWS, Office 365 and Google Cloud.
Our Value Adds
Expert Technical Support Engineers
Professionals with strong knowledge in Storage, Cloud , Exchange Servers and Networking
Superior communication and customer handling skills to match different customer levels
Assured quick on time solutions and deliverables
Frequent technical discussions within the team to ensure expert product knowledge
365 x 24 x 7 Support
365x24x7 unlimited live support.
Dedicated support engineers for various domains
Support in form of Calls , Web Cases and Remote Sessions
24*7 accessibility to the labs with the latest features
Processes
Enabled customers to assess their processes by providing best-practice guides and standards
Assured quick on time solutions and deliverables
MSys Internal Tracker to capture day to day interactions and send automated reports
Monitoring and review mechanism for continuous performance Improvement
State-of-art-infrastructure
Multiple dedicated international IP Leased lines with 99.9999% uptime.
DR Site in Bangalore for BCP(2 hours of travel from Chennai)
PBX infrastructure and Toll free US number
Cisco ASA firewall for security and site-to-site VPN
Ability to scale up the system to Avaya CMS or similar systems
Live Production Support – End to End Application Management Support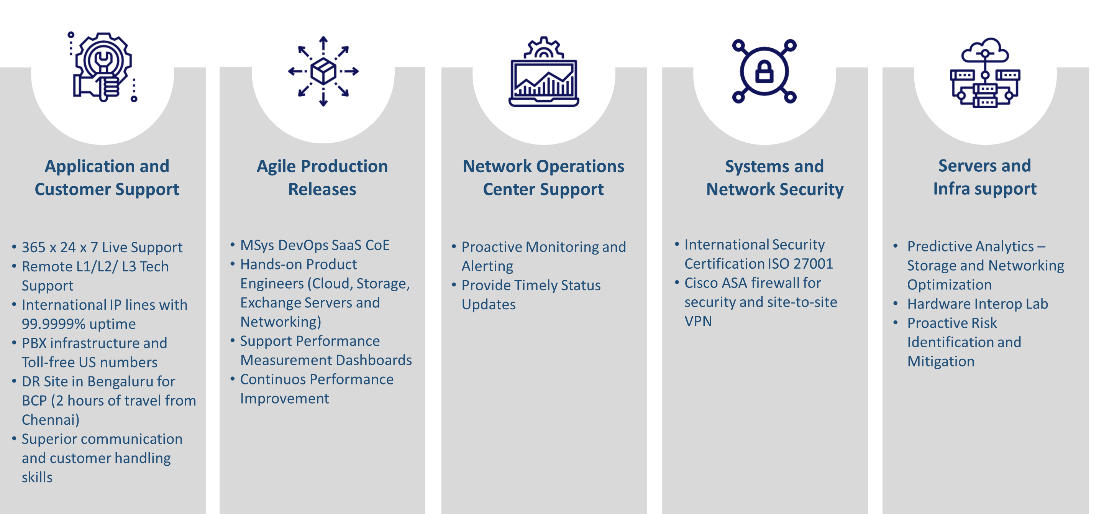 Our Customer Speaks
"Thanks to the certified tech support specialist of MSys, we quickly realized the increased reliability of our IT infrastructure. There was a spike in fault tolerance capabilities, and we experienced a high level of productivity. One thing that impressed us was the competency of their staff, along with flexible pricing policies. It was a fruitful business relation and satisfying output,"
– IT Head of an Enterprise Software Product in the U.S.
Accelerate with MSys today!
Work with a top-ranked, Gold and Elite certified Microsoft Cloud Partner
Leverage Teams with a proven record of extensive datacenter migrations

Rapid ROI with 3x faster migrations and up to 43% lower costs
Migrate datacenter to cloud with near-zero downtime, risks or end-user impact
See us in action,
kick-start the project
CTO Network Newsletter
Join 10,000+ Product Leaders for latest technology updates
Talk to Our Engineering Experts