Today's pace and agility of businesses could weigh traditional datacenters down. The demands on the datacenter keep on increasing as they get more complex, thanks to new business apps and advanced technologies. Information is at the core in this fast-paced technology business.
Meet inflating storage demands with Hyperconverged Infrastructure
In order to keep up with clients and to get the edge over competitors, companies are embracing real-time, data-driven operations and transaction-based business. Besides matching up with the speed of information exchange, organizations are increasingly aware of the need to simplify their infrastructure to truncate the time it takes to get new systems up and running. Businesses look for an infrastructure that can scale up to the next wave of upgrades to the data center. To suit these demands, organizations actively seek alternatives where agility is a key characteristic along with cost effectiveness and less complexity.
"Hyperconverged infrastructure has emerged as a dominant hardware platform for hosting private clouds, virtual desktops and new application development environments"
For businesses that want the agility of public cloud infrastructure, yet expect the security of hosting the hardware on their own premises, hyperconverged infrastructure has emerged as a dominant hardware platform for hosting private clouds, virtual desktops and new application development environments. Over the last couple of years, hyperconverged solutions are coming on their own, out of the cocoon of the converged infrastructure, with foundational elements such as integrated compute, network and storage infrastructure.
Hyperconverged Infrastructure Offerings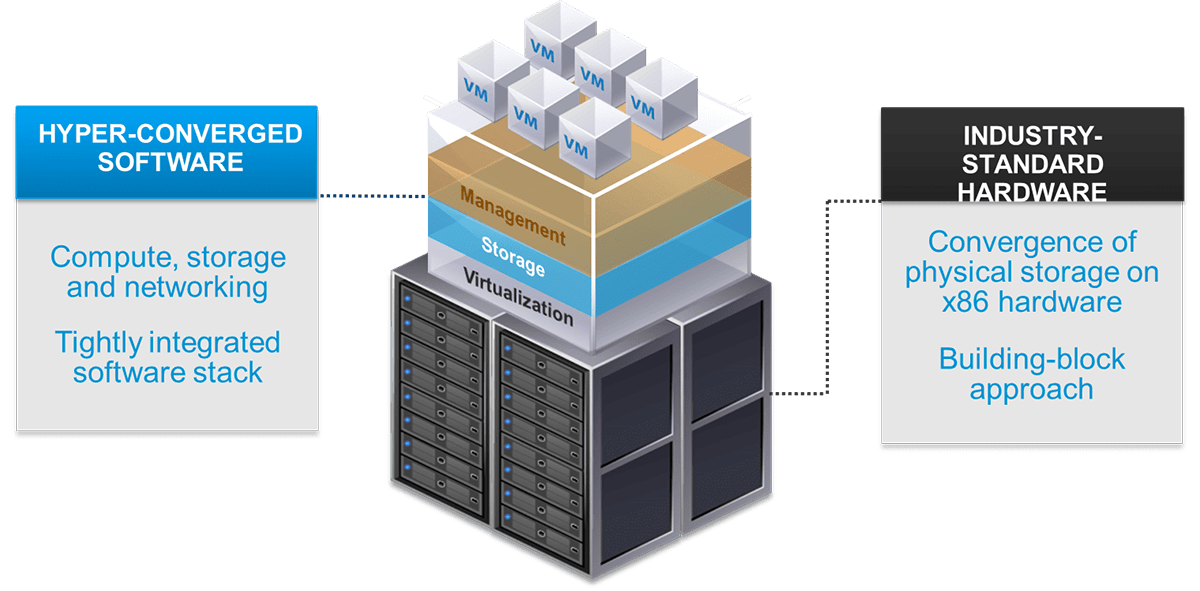 MSys Technologies offers end-to-end solutions for your Hyperconverged products. Now you can engineer the best in class solutions for your end user with MSys Technologies' expertise spreading across configuration, management, and monitoring. MSys Technologies delivers products that enhances the predictability, scalability and standardization of your solution. With MSys Technologies, you can orchestrate products that support multiple application workloads, facilitating security, resilience and manageability at scale across environments. Solutions offered by MSys Technologies can help you reduce capital and operating expenses. MSys Technologies understands the business needs for implementation of different applications and integration into complex IT environments. Give your end users a surreal experience with a smart IT infrastructure that
Improves datacenter
efficiency
Lowers datacenter
footprint
MSys Technologies designs and develops products that can overcome the performance limitations of conventional hyperconverged infrastructure. Our solution architects and tech support teams possess in depth skills across hyperconverged solutions.
Our Customer Speaks
"As a solution provider, we have an uphill task to ensure our customers are satisfied with our product. Our partnership with MSys Technologies has made that task a lot easier for us. Now we can truly offer our customers an infrastructure solution which is easy to setup, manage, support and deliver great performance."
– Principal architect, Enterprise information technology organization.
Accelerate with MSys today!
Work with a top-ranked, Gold and Elite certified Microsoft Cloud Partner
Leverage Teams with a proven record of extensive datacenter migrations

Rapid ROI with 3x faster migrations and up to 43% lower costs
Migrate datacenter to cloud with near-zero downtime, risks or end-user impact
See us in action,
kick-start the project
CTO Network Newsletter
Join 10,000+ Product Leaders for latest technology updates
Talk to Our Engineering Experts